Georgia Senate Race 2022 Polls: Latest Georgia Senate Election poll gives Herschel Walker a marginal lead over Democrat Raphael Warnock.
When is the Georgia Senate Race Election?
The Georgia Senate Race 2022 will be held on November 8th, 2022 to elect a member of the US Senate from Georgia.
Initial Conclusion
Polls: Georgia Senate Race is heading to a close finish. The Republican Herschel Walker maintains a marginal lead over the Democrat Raphael Warnock as per the average of the last three polls.
The latest Georgia Senate Poll has both Walker and Warnock tied at 47% vote share.
Google Trends: Google Trend data are highly one-sided with Herschel Walker having a higher search volume than Walker in Georgia.
Social Media Sentiments: Walker's sentiments are not very pleasing while the Democrat Warnock has been able to maintain a positive net sentiment.
Verdict: Considering all the data points, as of now Herschel Walker has a better chance of winning the upcoming Georgia Senate Race.
Georgia Senate Race 2022 Polls Summary
| | | |
| --- | --- | --- |
| | Who is Leading? | |
| Warnock vs Walker Polls | Walker | |
| Google Search | Walker | |
| Social Media Sentiment | Warnock | |
Georgia Senate Polls 2022: Herschel Walker Polls
Georgia Senate Race 2022 Polls: Google Search Trends, General Election
| | |
| --- | --- |
| | June 27th |
| Warnock (D) | 28% |
| Walker (R) | 72% |
| | June 20th |
| Warnock (D) | 21% |
| Walker (R) | 79% |
| 2020 US Presidential Election | |
| Biden | 36% |
| Trump | 64% |
Georgia Senate Race 2022 Polls: Social Media Sentiment Tracker, General Election
| | |
| --- | --- |
| | June 27th |
| Warnock (D) | -44.6% |
| Walker (R) | -3.4% |
| Date | June 20th |
| Warnock (D) | +2.9% |
| Walker (R) | -9.5% |
Warnock vs Walker Polls: Latest Videos and Ads
Georgia Senate Race Polls 2022: Latest Tweets
Originally tweeted by Reverend Raphael Warnock (@ReverendWarnock) on June 25, 2022.
Started off this morning way 'cross Georgia — in Waycross! Always a pleasure to be in Ware County.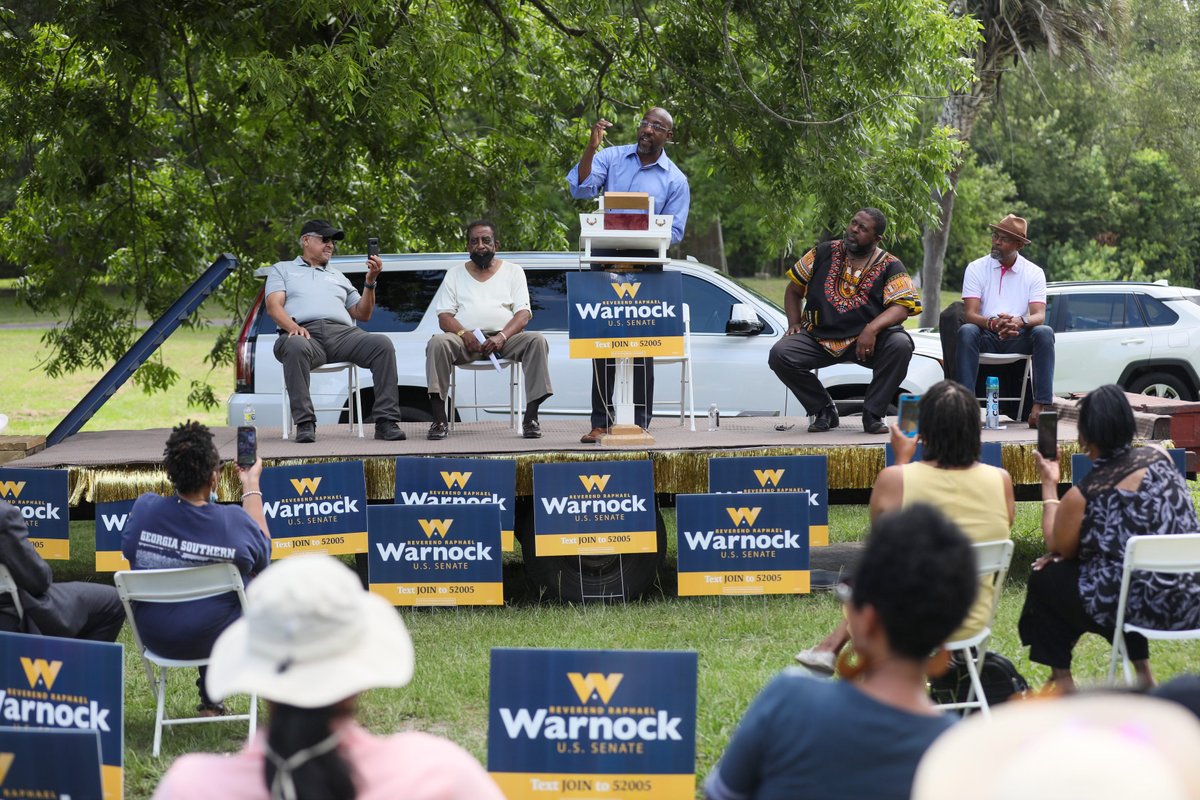 Originally tweeted by Herschel Walker (@HerschelWalker) on June 25, 2022.
Statistics show that a majority of babies who are aborted are black. Do the protestors or Senator Warnock believe the lives of black babies matter?
Georgia Latest Election Results: How Trump Is Facing Defeat in Georgia?
Donald Trump has been one of the most popular Republicans and in the ongoing Primary election heading for the November 8th mid-term election, Trump has endorsed candidates in different states. In most of the states, his endorsed candidates have been able to secure wins but in Georgia Trump has failed as most of his endorsements have lost elections.
The very first setback for Trump in Georgia came when his endorsed candidate for the Georgia Governor race, David Purdue lost by a huge margin against the incumbent Governor Brian Kemp in the GOP Primary Race.
Trump faced more setbacks on June 21st in Georgia. Trump-endorsed pair of candidates lost US House Primary runoffs. In the 10th Congressional district, Kemp-backed businessman Mike Collins defeated Trump-backed former Democratic state Rep. Vernon Jones.
In the 6th Congressional District also, Trump-endorsed candidate Jake Evans lost to Rich McCormick.
The back-to-back defeat of Trump-endorsed candidates in Georgia shows his decreasing popularity but will it be a concern for Herschel Walker who has been endorsed by Donald Trump.
Georgia Senate Polls 2022: Major Republican Endorsements
Herschel Walker is the front-runner as a GOP candidate for the upcoming Georgia Senate election. He has been able to garner big endorsements. The latest endorsement for Herschel Walker's candidature came from former Secretary of State Mike Pompeo.
Apart from Mike Pompeo, Walker is endorsed by:
Former US President Donald Trump
Former U.S. Ambassador to the United Nations Nikki Haley.
Georgia Senate Race Polls Today: Does a Trump endorsement guarantee an outright victory?
Yes, it is undeniable that the Trump standard is a HUGE boost to his candidature and name recognition seeing the tremendous popularity Trump enjoys amongst the Republican base.
BUT it is no guarantee of victory, here are a few examples
Let's take another example, in the North Carolina 11th Congressional District which was vacated by Mark Meadows to be Trump's Chief of Staff. Trump endorsed Lynda Bennett, but she still ended up losing in the primaries to Madison Cawthorn, a mere 25-year-old Greenhorn!
There are candidates who have lost in the primary or general elections despite receiving the endorsement of Trump, The latest one being his nominee in the Texas Special Election to the US House of Representatives.
Georgia Senate Polls 2022: Demographics
As per the Census 2020
| | |
| --- | --- |
| Demographic | Proportion |
| White Americans | 50.1% |
| Black Americans | 30.6% |
| Asian Americans | 4.5% |
| Hispanic Americans | 10.5% |
| Others | 4.4% |
As per some estimates on voter registration, white voters are nearly 60% of the state's registered voters and non-whites are 40%
Track all the latest US Senate Races here updated everyday with news, polls and analysis