RMNI Stock Forecast 2022: Performance of RMNI Stock in 2022
| | | | | |
| --- | --- | --- | --- | --- |
| Stock Name | 5 Days | 1 Month | 6 Months | 1 Year |
| RMNI | +10.09% | +14.59% | 28.03% | -24.06% |
RMNI Stock Forecast: Latest Tweet
Originally tweeted by Income Statement Bot (@fundamentalsbot) on July 19, 2022.
Rimini Street, Inc's quarterly revenue growth rate YoY of 11.40% ranked 2240 out of 5722 companies in our database.

$RMNI

🚀🚀🚀🚀🚀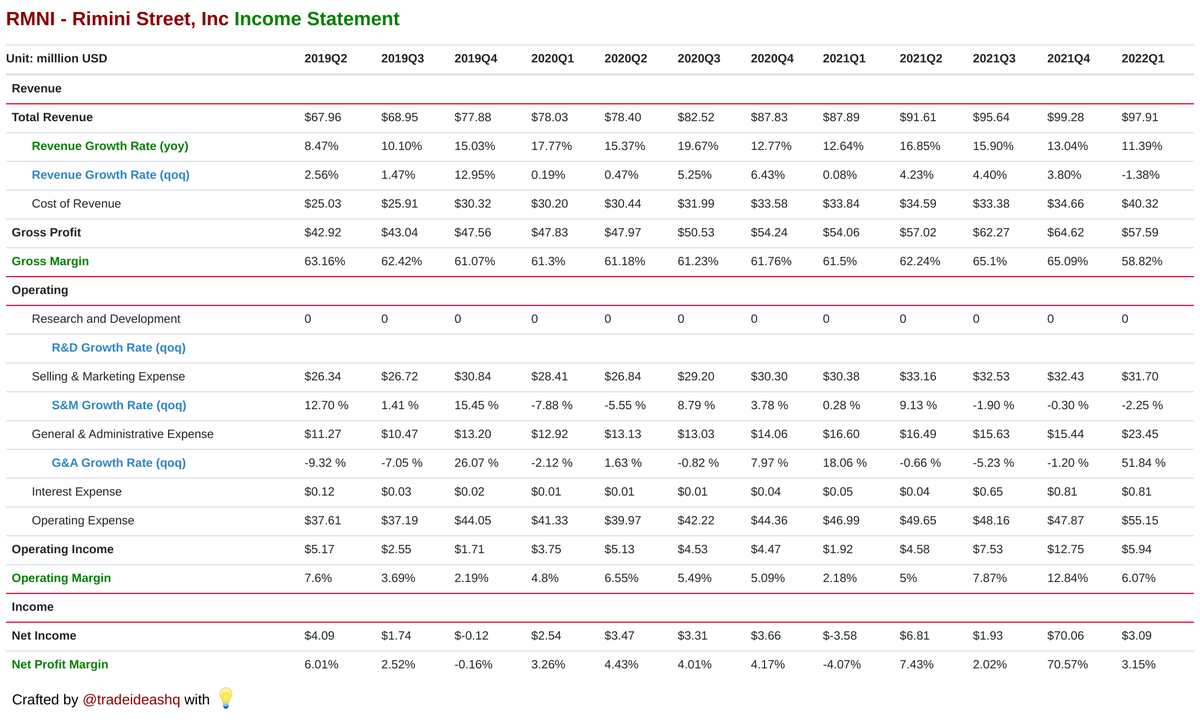 RMNI Stock 2021 Review
| | | |
| --- | --- | --- |
| Date | Price | |
| December 31st, 2020 | $4.45 | |
| December 31st, 2020 | $4.40 | |
| November 3rd, 2021 | $11.52 | |
| December 30th, 2021 | $5.87 | |
RMNI Stock Forecast: Bull Case
Increased Share Repurchase Program and Loan Prepayment-  In the early week of June 2022, Rimini Street Board of Directors announced an increase in the stock repurchase program. Earlier it was $15 million over two years which has been increased up to $15 million over the next four years. Rimini Street Inc is a provider of enterprise software products and services worldwide and a third-party support provider for Oracle and SAP software products and also a partner of Salesforce Inc.
Also, another positive news being the company prepaid $5 million of indebtedness before time for its long-term loan on May 31st, 2022, with no penalty. With this company's outstanding loan balance is only $81.6 million as of June 2022. 
Announcement of new clients – As of March 31st, 2022, the company has 2884 active clients which is up by 13.1% YoY. Recently, the company announced a new client in the form of SK Networks, which decided to make Rimini Street its Oracle maintenance partner. Any client addition is a source of revenue in the long term. Also, last year company announced last year that it became an approved supplier of New Zealand Government Marketplace through a Marketplace Agreement. With this, agencies can now procure Rimini Street services more easily without negotiating their own contract terms and pricing. 
RMNI Stock Forecast: Google Trends
RMNI Stock Forecast: Latest Video
RMNI Stock Forecast: Bear Case
Dismal Q1 FY 2022-23 financial results- Rimini Street came up with the first-quarter earnings report in May 2022 and the investors had a bad reaction to the earnings report and the stock tumbled 20% in a single day. The company reported revenue of $87.9 million, which missed street expectations of $88.2 million. On the other hand, the company reported an EBITDA of $10.7 million and a loss per share of $0.13, which was much lower than the $0.06 million in the same quarter a year ago and an estimated $0.04 per share loss by analysts.
Analysts also reacted negatively and Richard Baldry of Roth Capital slashed the rating from buy to neutral and slashed the target price from $15 to $8. 
RMNI stock forecast: Conclusion 
Rimini Street Inc is adding new clients and is doing its part in bits and pieces, but the same is not sufficient. We note that in the last one-year stock is down by about 19%, as investors continue to punish hard the companies not performing well on the financial grounds.
The recent first quarter was the company's slowest growth since the pandemic began and revenue was almost flat seen on a sequential basis. Rimini Street needs to outpace the industry in terms of revenue growth and profitability to turn its stock price into the green territory. 
Question and Answers 
1. RMNI Stock Forecast 2025 
Ans – Rimini Street is a support provider for Oracle and SAP and is also in partnership with Salesforce Inc. Looking at the horizon of three years down the line, there are so many growth opportunities for Rimini Street. There have been improved operations and the company has expanded operations into various geographical fronts we saw the example of an agreement with the New Zealand government a year ago in the article and have cleaned up its balance sheet over the last couple of years. Prepayment of term loans and the announcement of an extended share repurchase program tells a lot about the confidence of directors in the company. 
I still believe that there is a mismatch in the company's fundamentals and share pricing and this may be due to the SPAC model debuting on the share market. SPAC model is not sustainable for the longer term, even if it does provide short-term gains to the investors. Another headwind for the Rimini is the stock dilution, which they have done time and again in the last couple of years.
Recently, the company is reported selling 7 million shares at $4.50 per share. The price reported is much lower than the current share price. The good thing is that proceeds of $28.9 million including fees of the sale will be used by the company to further strengthen the business. 
There is a bright future ahead for Rimini Street Inc as it partners with companies such as Salesforce and government agencies across borders. Rimini Street can create large value for its customers and in the process for itself. But the company has to come out of the woods of short-term headwinds like stock dilution and flat growth in the bottom line.
RMNI stock is currently consolidating the zone of $15-5 and the future journey will be based on the approach of the management to deal with the short-term volatility. 
There are a lot more opportunities for Rimini and RMNI stock to deliver tremendous returns by the year 2025 if the stock can sail through the short-term bearish sentiments.  
2. RMNI stock forecast: Stock Buy or Sell 
Ans – There are a few positives and negatives about Rimini Street Inc as a company, but there are more negatives for RMNI stock rather than positives. One of the biggest and foremost is that it has become a penny stock lately. With the recent downfall, the stock is only a notch higher than $5. It is trading at $5.98 (as of 11.06.2022). Apart from a dismal performance in the financial quarter results, this is another issue with the RMNI stock which cannot be ignored.
The penny stocks are not meant for retail investors and are only for speculations by the F&O traders. Even if the stock does well on the financial front, it has to come out of the penny stock zone to make it a buy for retail investors. 
In the current global market scenario with inflation fears ramping up and rocking the stock market, it seems that Rimini Street will become a far riskier investment for retail investors. So it will not be a wise decision to start fresh buying. At the same time, it is way below its all-time high of $15 and it is punished due to bad global sentiments. Going forward, it can give handsome returns if the sentiment tide turns around. So, it will be wise enough not to sell either, but keep a close watch on the stock and the decision can be changed as and when the stock price falls below $5. 
Read Also: CHEWY STOCK FORECAST
Vineet Agarwal
Note: Crowdwisdom360 collates Predictions and data from all over the net and has no in-house view on the likely trends in the Stocks or Crypto Coins. Please consult a registered investment advisor to guide you on your financial decisions.