Read our comprehensive Solana Price Analysis. Also, read about the latest news analysis and the discussion about Solana on Reddit and Twitter
The overall crypto market has recovered marginally in the last 24 hours with Bitcoin, Ethereum trading higher but for Solana, there has been no recovery. Solana has retreated below $40 and the reason behind it is the latest hack. Solana's Wallet has been hacked and over 5000 Solana wallet has been drained by an unknown hacker. This has led to almost hacking of over $8 M worth of Solana tokens.
In the last 24 hours, Solana has lost around 4% of its value. The trading volume of Solana has however surged but the overall market cap of Solana has crashed. Currently, Solana is trading below $40, and has shown no signs of recovery.
Solana remains the 9th largest cryptocurrency in terms of market cap. The overall market cap of Solana is $13.52 B*. In the last 24 hours, the net social media sentiment for Solana has changed from positive to negative.
Solana Price Analysis: Total Market Cap and Trading Volume
| | | |
| --- | --- | --- |
| | Value | Trend |
| Market Cap | $ 13.52 B | Lower |
| Trading Volume | $ 1.75 B | Higher |
Solana Price Analysis Twitter Buzz
Originally tweeted by CryptoNick (@cryptonick_d) on August 3, 2022.
With $SOL all over the news, let's look at the chart.
Still not able to close above the blue resistance line on the weekly. The small white ascending line needs to hold as support.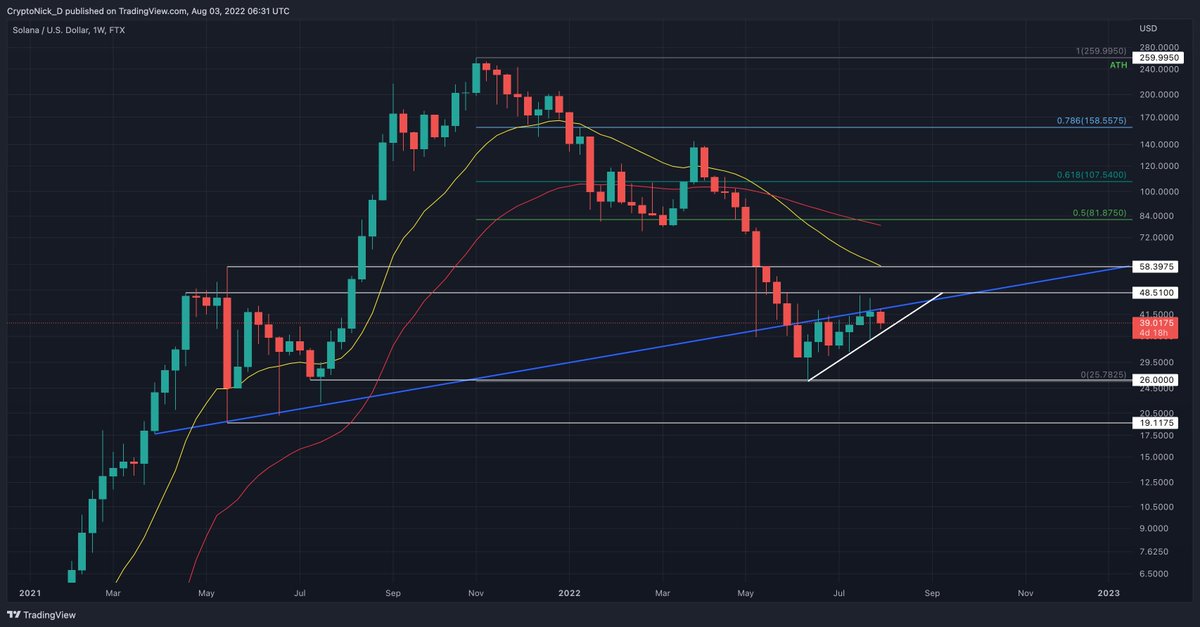 Latest Solana Price
Solana Price Analysis: Reddit Discussion
Reddit has been almost silent with respect to Solana. There is very less discussion about Solana and its future on the platform. One user on Reddit has pointed out that Solana has been getting a lot of hate and has witnessed a lot of bad press. One user claims that the Solana developers are doing something right which is throwing them under fire of bad press.